SalesAgility are excited to announce the new, ready-to-use business analytics platform, SuiteCRM Analytics. This Open Source and free to download solution was built using Pentaho BI Suite Community Edition and will provide SuiteCRM users with the ability to launch, administer and customise their own BI platform.
Working together with the Pentaho Business Intelligence experts at IvyIS, SuiteCRM Analytics is comprised of two major components; SuiteCRM Data Integration and SuiteCRM Web Analytics.
SuiteCRM Data Integration
SuiteCRM Data Integration is an Extract, Transform and Load (ETL) solution. It connects to any SuiteCRM instance, extracts source data from the MySQL/MariaDB database and loads it into a Data Warehouse which has been optimised for analytical functions. SuiteCRM Data Integration can be installed as a stand-alone solution and can be used with other reporting tools if desired.
The fully extensible foundation solution extracts data from SuiteCRM and embraces other third party data sources for complete data mashups. For example, users could pull in weather data from a meteorological site, historical sales data from ERP and compare it against global and regional sales account performance data in SuiteCRM to gain deeper insights into customer behaviours.


SuiteCRM Web Analytics
SuiteCRM Web Analytics is a web based analysis and reporting frontend that allows users to explore data in the Data Warehouse that has been extracted from SuiteCRM and third party data sources.
Users are able to log into the web portal to run, filter data or schedule reports. The web portal provides the ability to import new reports and dashboards created using Pentaho powerful CTools and Report Designer. Reports can support a number of different visual charts and output types such as HTML, PDF and Excel.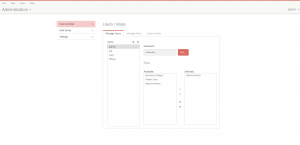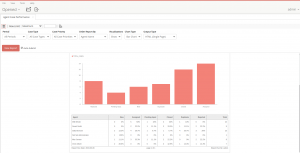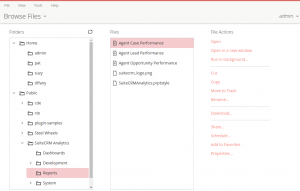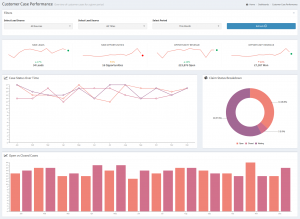 When the world's leading Open Source CRM and analytics platforms come together to supercharge data insights, customers will be able to unlock even greater value from their digital assets to drive better, faster and more intelligent business decisions.
The team is already hard at work on Version 2, which will be released in Autumn 2019.
If you are interested in learning more about implementing SuiteAnalytics, find out more here.