Training
Get the most out of your SuiteCRM
What is SuiteCRM training?
SuiteCRM is a very powerful solution, and with our expert training your users will be more efficient in less time. Training is delivered by experienced consultants who possess expert knowledge of SuiteCRM and business processes, and they will provide you with key product knowledge and best practices.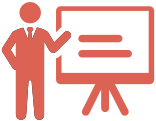 What types of training are available?
Level of Training
User training – turn your team into highly efficient SuiteCRM users, able to work faster and better

Admin training – get people with admin skills in your organisation, to maintain your SuiteCRM instance in-house, manage users, create reports, and more

Developer training – get power users that understand how to modify views, create hooks or use the API

Training your people is an essential success factor in good CRM implementations.