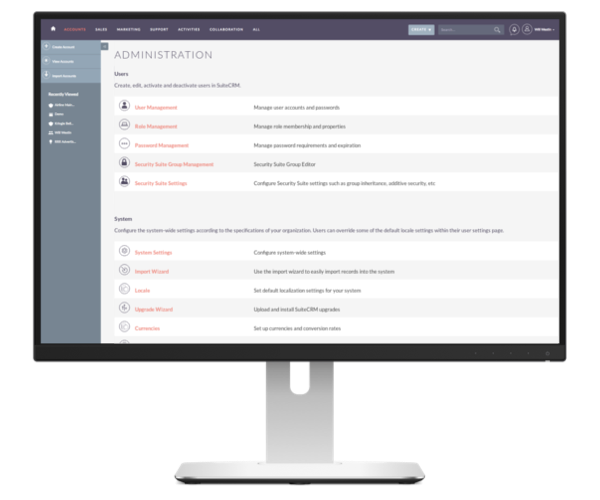 SalesAgility, the driving force behind SuiteCRM, has released SuiteCRM version 7.11.8. This release includes a number of bug fixes, security patches and enhancements.
SuiteCRM, the world's preferred Open Source CRM is supported by it's dedicated and talented community. These community members volunteer their time and skill to give back to the product so that everyone can benefit.
SuiteBot & README
Improving our contribution processes is an ongoing task and one of the aims is to increase community collaboration and autonomy. We are therefore happy to announce that we have introduced a new SuiteBot that will help out with some of our GitHub processes including; using comments to label issues and help out with first contributors. We will be improving this bot as time goes on, but if you see a SuiteBot updating your issues or PRs give it a virtual high five!
Highlights
We have included a few email fixes into this release: importing plain-text and attachments; correcting flag for leaving emails on server and emails cross referencing restricted addresses. Other good-to-note issues resolved are: reinstating Charts file to resolve after a rebuild; new user passwords not being generated and providing backwards compatibility from files being moved to composer.
We have been continuously moving files into Composer and in this release we have moved a large part which is the Zend framework (thanks to the community). This will allow us to easily update all of our dependencies and receive faster security patches from third party libraries.
Check out more of the latest fixes (including Security fixes) in our SuiteCRM 7.11.8 Release Notes.
We would like to say thank you again to all the contributors for this release! In total 6 community contributed pull requests where merged – it was a shorter release cycle this time.
To download or update to the latest version, please visit our download page.
At the same time, we have released a new update of our LTS versions. SuiteCRM 7.10.20 LTS is available at our LTS download page. For the release notes, please check: SuiteCRM 7.10.20 LTS.