Hello Everyone!
We are making an update to our pull request party that we hope you will all enjoy! In the ethos of encouraging community collaboration and a chance to show our utmost gratitude to our contributors we have created 200 SuiteCRM mugs that we will give to all contributors that takes part in our 2 day event!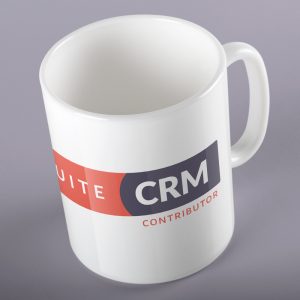 That's right! If you participant in any of the following activities during the 17 – 18 Dec you will receive a SuiteCRM mug & stickers.
Test and verify bug fix pull requests
Test and verify enhancement pull requests
Supply an acceptance or unit test for any PR
Author of pull request that was successfully merged
Don't worry if you have set your heart on a SuiteCRM t-shirt! As previously explained to qualify to receive a t-shirt you need to earn 200 points.
What happens next after the PR Party Closes
Once the event has ended we will use the email address of your Github account to let you know your final accumulated points tally. These emails will go out in batches but if you don't receive an email by 7th January 2019, please contact us at – community[at]suitecrm[dot]com
You will receive another email once your reward(s) have been shipped. We will aim to have all the orders processed by the end of January 2019.
Please be aware that receiving your items can take up 3 – 5 weeks for international orders.
So if you can it would be great if you could join us next week and look forward to enjoying a cuppa supporting your favourite Open Source CRM – SuiteCRM!