As you know, our Product team has been busy working on our most significant upgrade to date SuiteCRM 8. This promises to give you, our users, even better control of your data and business solutions forever.
As we edge ever closer to our launch date, we want to make sure that all you SuiteCRM users who are ready to make the leap are prepped and ready to upgrade.
Extended Support Releases (ESR)
The initial releases of SuiteCRM 8 will have a shorter support period than previous releases, with plans for smaller feature releases to be published more often to help drive development forward.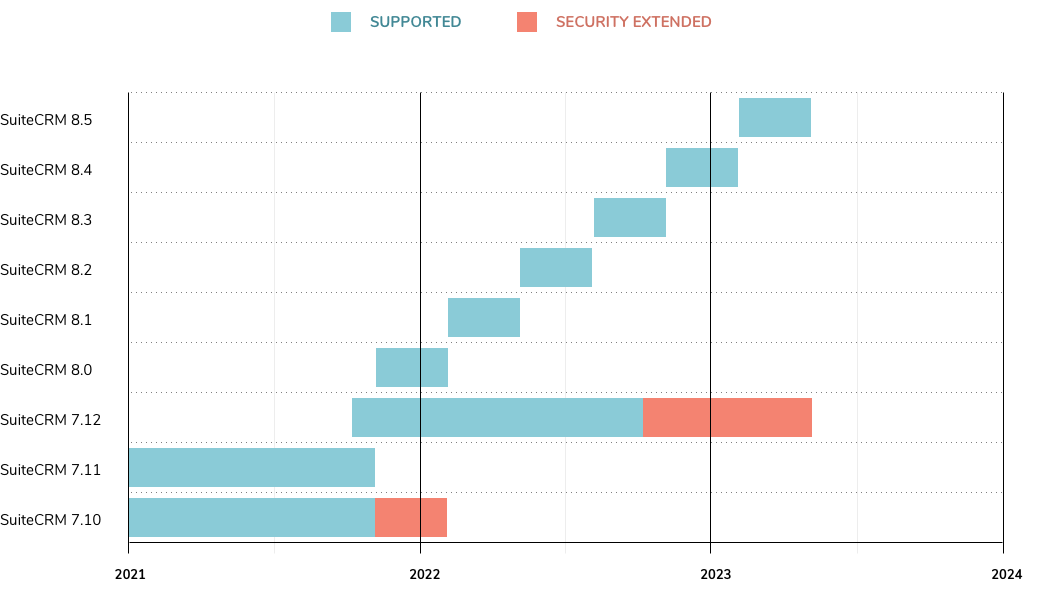 To account for this, we have added extended support to the recent SuiteCRM 7.12 release, to allow our clients, community, and partners time to transition to the new and improved SuiteCRM.
SuiteCRM 7.12 ESR will give users a full 18 months of support following the release of SuiteCRM 8. SuiteCRM 7.10 has also been moved to extended security support only, until the end of January 2022.
Migrating from SuiteCRM 7 to SuiteCRM 8
Migrating from your existing software to SuiteCRM 8 will vary from instance to instance depending on several factors. For those with more heavily customised instances, assessing compatibility will be an important first step.
For those ready to make the switch this can be done in a few straightforward steps. Stay tuned for the migration guide that is coming very soon!
Don't forget, you can organise a requirements call with one of our consultants who will be happy to discuss your implementation or migration project needs with you.
What you can expect from SuiteCRM 8
And if you need a break from the technical stuff, here's a recap of all the great benefits of SuiteCRM 8 which are coming your way!
Better user experience
Our team has been working hard to create an experience which is simple, fluid and accessible. As such, we have developed a more modern user interface that will allow interactive visualisation and a fresh foundation on which future features can be built.
We also know that our users need fast and precise information, so we designed a more rapid and efficient access to key customer insights to drive streamlined operations across all customer touchpoints. Finally, we rendered the product more versatile by optimising it for working on all screens, including mobiles.
Better technology
We strive to innovate and propose the most advanced products, so we designed a new Core framework to ensure that SuiteCRM 8 has a leaner and more maintainable application. We are also continually improving the product by making everything as extensible as possible, and by introducing a new test suite for Angular UI and the SuiteCRM 8 core.
Easy installation 
SuiteCRM 8 has been built with backwards compatibility in mind, enabling a smooth transition from SuiteCRM 7 to 8. It also boasts a new compatibility mode that can be configured by both view and module, aimed at making life easier for users.
Have your say! SalesAgility wants to create the best product for our clients, so we are keen to hear your feedback. Join our community forum here.