On the final day of #ScotAppWeek2019, SalesAgility, the authors and maintainers of SuiteCRM, were pleased to welcome Dean Lockhart MSP and Ed Blackburn, Skills Development Scotland, at their offices in Stirling to celebrate the success of our apprentices and our Apprenticeship programme.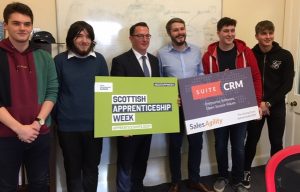 "SalesAgility are a great example of leadership in creating modern apprenticeships in the IT Industry giving apprentices great exposure to Open Source technologies," said Dean Lockhart.
SalesAgility has been recruiting apprentices since 2015 and to date have recruited 11 Apprentices who have gone on to various roles within the company.
SalesAgility, with clients globally, are invested in our local talent pipeline and under the stewardship of Jenni McDonald, their Talent and Recruitment Manager, are working closely with schools to develop pathways into software development and consultancy roles.
"Apprenticeships are at the forefront of our recruitment strategy," said Dale Murray CEO of SalesAgility."Our apprentices demonstrate incredible talent but also bring a drive and passion to their work which not only yields great results, it generates new ideas and pushes our own processes forward."
As a company SalesAgility is actively engaging with high schools and colleges across Central Scotland to provide career insights to students who may be interested in a software development career. Their involvement with the Developing Young Workforce Forth Valley group has helped greatly in building relationships with the local schools and further reinforces our commitment to youth employment across the region. Working closely with the schools helps to identify potential future talent to become apprentices and lets the students know who we are as a business.
"I think apprenticeships are a great alternative to college and University. There seemed to be a stigma that apprenticeships were only for low achievers or manual labour, luckily the view seems to be changing! Many different industries can now embrace apprenticeships, as they benefit the company and the youngster involved. It allows the apprentice to earn money while learning and gaining work experience, which I personally see as a huge advantage, especially as many graduates are struggling to get jobs within their industry," said Cameron, one of SalesAgility's former apprentices and now working in Application and Infrastructure Team.
SalesAgility currently has 3 Modern Apprentices (MA) and 2 Graduate Apprentices (GA), working in different areas of the business, talented young individuals adding value to the team.