Work at SalesAgility
Passionate about open source? Make it your living!
Hiring: Sales Development Rep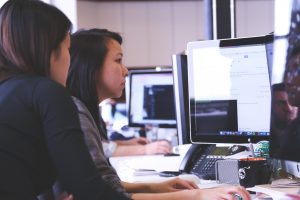 SalesAgility are looking for a talented and enthusiastic Sales Development Representative to join our growing Sales and Marketing Team. In this rewarding role, you will utilise your experience in sales development alongside your knowledge of software and technology to deliver a high-quality leads and opportunities.
We want our team to grow with us and we will work with you to outline a career roadmap including learning opportunities and personal progression to help meet your full potential.
What you will be doing…
Lead generation with online research and targeted lists through email and outbound calls – 50+ calls per day
Execute on outbound proactive outreach to prospects via cold calling and strategic email campaigning
Discover the prospect's business needs and schedule next steps with the customer, typically a demo call with an Account Executive
Use a consultative selling approach to identify customer needs and requirements
Promote and position the value of SuiteCRM solution and SalesAgility's offerings based on the prospect's needs
Collaborate with Sales and Marketing to identify and source potential leads
Nurture longer-term prospects
Document, track and monitor all leads and activities in SuiteCRM
Follow up and qualify inbound leads that have engaged through marketing programs and campaigns
Work with Sales and Marketing to identify strategies on effective account development, prospecting, outreach and objection handling.
Build a solid understanding of B2B sales concepts
Collaborate with Sales and Marketing to develop a repeatable outreach process, SLAs and playbook
What you will need to be successful…
Bachelor's in Business Administration, Marketing, or Communication preferred but not essential
Min 1+ years of relevant sales and business development experience preferred
Ability to be on the phone 85% of the day
Experience in B2B (Business to Business) software sales is preferred
Be experienced in all stages of the sales process from lead generation to conversion
Research and map out targeted accounts
Communicate with decision-makers and other various contacts at the company in an articulate and professional manner
Identify fully qualified sales opportunities and maintain details pipeline on our CRM
Ability to work independently
Self-motivated, adaptable, confident, and resilient
Ability to maintain a high call rate and to assess prospect's "fit"
Excellent probing and listening skills
Time management skills: ability to plan, prioritize and organize a diversified workload with strong attention to detail
What will give you an advantage…
Understanding of CRM market and software implementation processes
Ability to have in-depth and/or complex sales conversations at C&D level to understand upcoming projects and needs within the business
Proven success at creative outbound prospecting
Experience working with CRM
Highly skilled researcher and hunter with a strong phone presence
Why join us?
Competitive salary
Contribute to the open source community
Remote working available
Flexible working options
Supportive team culture
Company share scheme
Regular catered social events to build team collaboration
Company pension scheme
Remuneration
The salary scale for this role is £22,000-£27,000 dependant on experience, plus commission.
About SalesAgility
SalesAgility writes and maintains the world's leading open source Customer Relationship Management (CRM) application – the award-winning SuiteCRM. We are an open source CRM software consultancy with headquarters in Stirling, Scotland and a client base across the globe.
It's an exciting time to join SalesAgility. We are in a period of growth and are on the cusp of launching SuiteCRM 8.0, our largest release since the company began. With a vision to become the world's most adopted CRM, we are focused on providing our customers with freedom, flexibility, and the best possible user experience whilst promoting a culture of open collaboration, continuous learning, and always doing the right thing.
This position can be based in our Stirling office or remotely. Our office is in the heart of Stirling, we're close to shops, cafés, restaurants, train, and bus stations, and are well connected to the motorway network. In addition to the employee share scheme, we offer competitive salaries, flexible working options, a company pension scheme, regular catered social events to build team collaboration and most importantly a supportive team culture.